Eritrea
Is Ethiopian Airlines Overcharging Eritrean Travelers? Here's What You Can Do
If you're an Eritrean traveler planning to fly with Ethiopian Airlines, be aware of potential overcharging. There have been reports of Ethiopian Airlines charging Eritrean passengers higher fares.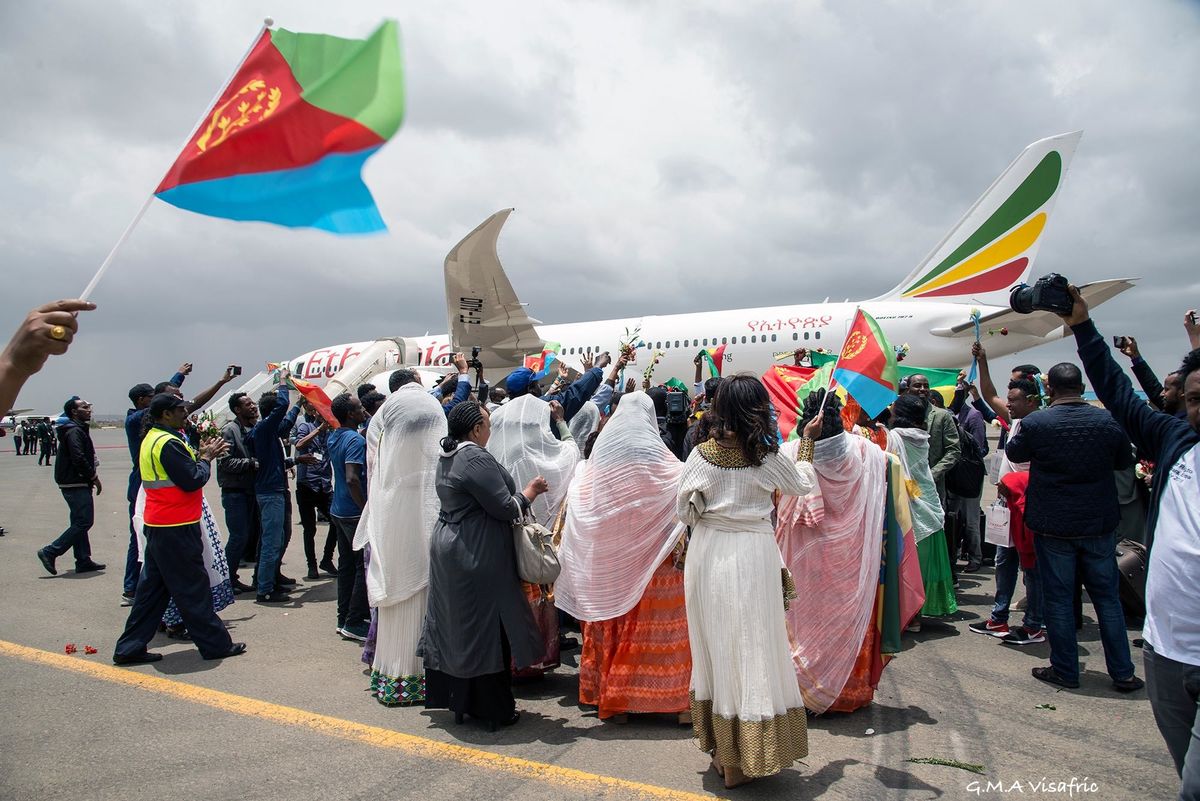 Are you an Eritrean traveler looking to avoid being overcharged and mistreated by Ethiopian Airlines and customs? In today's world, Social Media plays a significant role in shaping the narratives. That said, however, the complaints of Eritreans about the overpricing of tickets and the mistreatment Eritreans get, especially in Bole Airport, have been consistent.
Ethiopian Airlines, the largest airline in Africa, has been accused of price gouging Eritrean travelers. Various reports show that Ethiopian Airlines has been charging up to USD 1,000 more than other airlines for tickets purchased in Eritrea.
What is price gauging?
During times of crisis or emergency, such as natural disasters or wars, some businesses engage in an unethical practice known as price gouging. This involves charging excessively high prices for basic goods and services like food, water, and shelter to take advantage of vulnerable individuals who cannot buy them. Price gouging is a form of exploitation that seeks to make excessive profits by raising prices to unreasonable and unfair levels. This practice is a violation of consumer rights and can have a detrimental impact on individuals and communities that are already struggling to recover from a crisis.
Is Ethiopia Airlines indeed overpriced and exercised in price gauging, especially over the last two years during the war with the TPLF? Are Ethiopian Airlines taking Eritrean travelers for granted and ignoring their concerns about the abusive treatment by Ethiopian airlines and customs in Ethiopia?
After the fall of the Tigray People's Liberation Front from power and the Peace Between Eritrea and Ethiopia in 2018, the demand for the inaugural commercial flight between Ethiopia and Eritrea was so high that a second flight was scheduled to leave within just 15 minutes.
The reunion of Eritreans was marked with great enthusiasm and nostalgia, and passengers were presented with roses and champagne to commemorate the momentous occasion. After landing in Asmara, the passengers were greeted with joyous celebrations as they reunited with family and friends they had not seen since the 1998-2000 border war. Tears of joy and heartfelt embraces were abundant, and the event's historical significance particularly moved many.
Eritreans were happy to return to normalcy and use Ethiopian Airlines, the Largest airline in Africa.  However, Ethiopian Airlines tripling their round ticket prices from Asmara to Addis Ababa has caused concern among Eritrean diasporas trying to visit home.
In the height of the busy travel season in Eritrea in 2022, this issue has sparked a discussion among Eritrean social media users and appealed to the Ethiopian Airlines management office to address the matter urgently.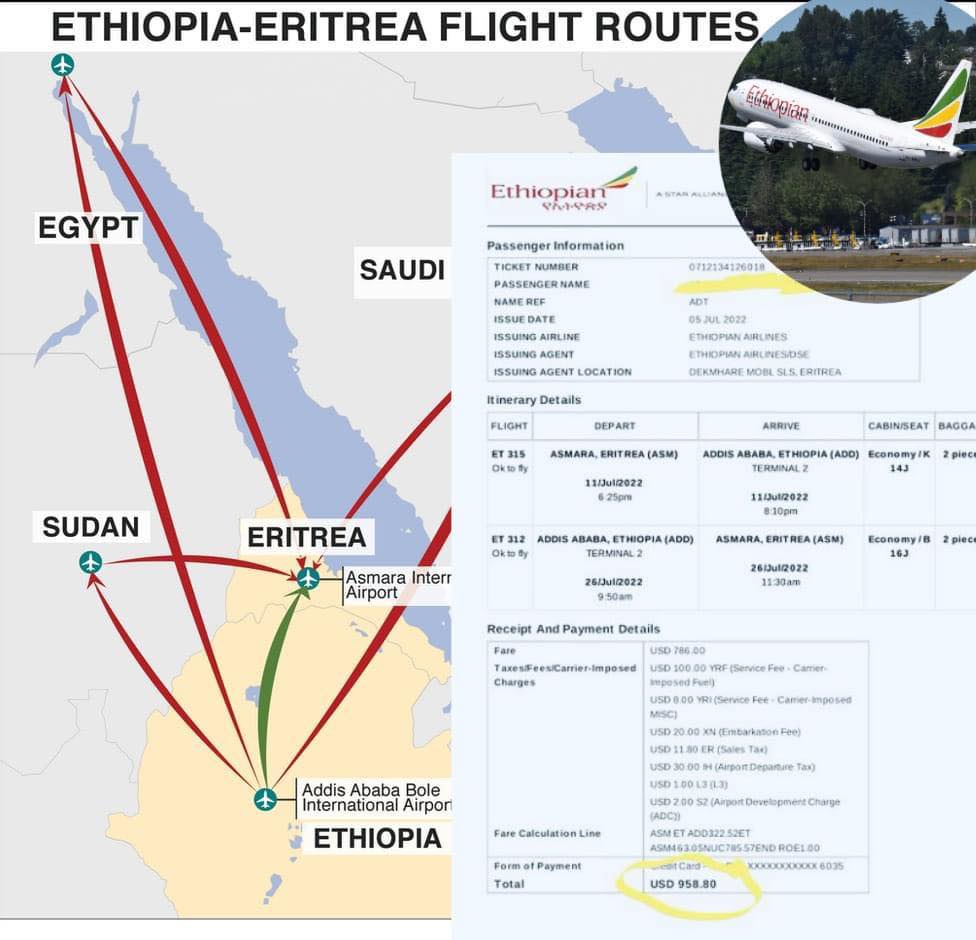 The situation is further complicated by unclear duties from the Federal Government Immigration Service regarding required visas. The US $958 economy class round trip to and from Asmara - Addis Ababa is particularly concerning, as a comparison with two years ago shows a 350% increase in the ticket price.
Eritreans urged Ethiopian Airlines to take steps to handle the Asmara sector flights professionally and appropriately. They want the Airlines to address issues such as needing visa details to complete online check-in and the US$122 penalty for changing flights.
Furthermore, the only ticket office in Asmara causes concern due to the long queues and the requirement for USD cash.
What Can Eritrean Travelers Do?
If you are an Eritrean traveler and want to avoid being overcharged by Ethiopian Airlines, there are some things that you can do.
If these allegations are true, one possible course of action for Eritreans could be to file a complaint with Ethiopian Airlines or to seek alternative airlines for their travel needs. They can also appeal to Eritrean authorities to help Eritrean travelers.
Eritrean travelers can avoid potential overcharging by Ethiopian Airlines by exploring different airline options like EgyptAir, flydubai, Sudan Airways, Tarco Aviation, and Turkish Airlines. They can also secure their flights in advance and seek assistance from travel agents with expertise in booking flights from Ethiopia.
They can also use alternative websites to compare flights across several airlines and book using their preferred currency and payment method.
What Can Ethiopian Airlines Do?
The people of Eritrea will always utilize Ethiopian Airlines' services because it is a major airliner. Ethiopian Airline is the largest in Africa and an important hub for flights to and from Africa.
Eritreans are a vital segment of Ethiopian Airlines' income stream. Hence, the Airlines could not afford to take it for granted.
On the other hand, Eritrea is coming out of a very long US imposed illegal sanctions. After decades of no-flight and communications relations with Ethiopia, Ethiopian Airlines was meant to be part of the solution. While there is no doubt in Eritreans' mind that at some point, Eritrean Airlines would be competitive, due to the unique connection between Eritrea and Ethiopia, the convenience and reasonable pricing of goods and services will go a long way to help the process of regional integration.
Hence, while Ethiopian Airlines denies any wrongdoing,  if maintaining its image, reputation, and credibility is important, Ethiopian Airlines and its authorities should build a strong rapport with Eritrean passengers to foster trust and loyalty.
Hence, To build a long-term relationship with the people of Eritrea who use Ethiopian Airlines extensively, the airline could focus on providing excellent customer service and addressing any concerns or complaints promptly and effectively. Additionally, Ethiopian Airlines could work to build trust and goodwill by engaging with the Eritrean community and supporting local initiatives and events. Building a strong rapport with Eritrean passengers and supporting community development can foster trust and loyalty.
Conclusion
It is essential to remain mindful of price gouging and knowledgeable about other options. Ethiopian Airlines denies any wrongdoing. Regardless of whether or not this practice is illegal under international law, it is clear that this policy has harmed many people living in Eritrea who wish to travel abroad but cannot afford these inflated prices.