Eritrea
President Isaias Afwerki on China-Africa Relations: A Model for Africa's Development
Eritrea & China have a strong, long-standing relations spanning decades. President Isaias visited China to celebrate the 30th anniversary of diplomatic ties, & to discuss bilateral relations. He praised China's achievements & cooperation. He shared his views about a multipolar world & sanctions.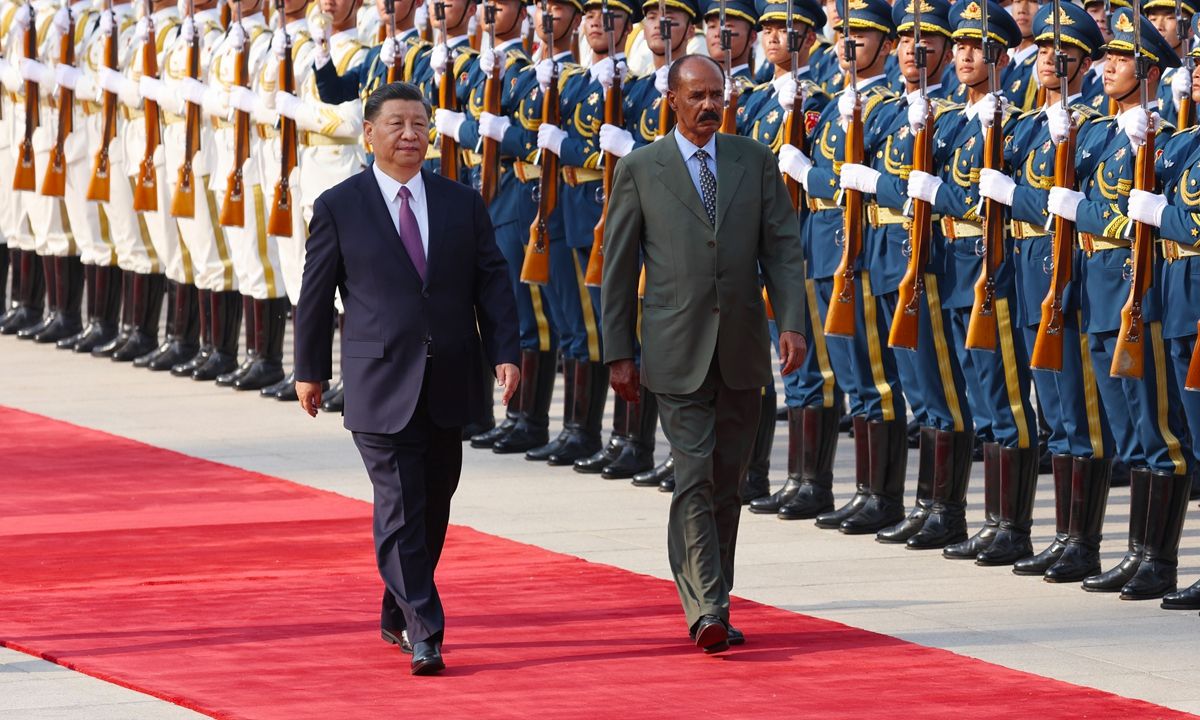 Amanuel Biedemariam
For over fifty years, Eritrea and China have maintained a strong relationship encompassing various forms of collaboration, including political, economic, cultural, and security initiatives.
China's President Xi Jinping welcomed President Isaias Afwerki and his delegation with a warm reception and praised the growing cooperation between the two countries.
President Xi Jinping praised Eritrea's remarkable achievements in the past 30 years since gaining independence. He acknowledged Eritrea's ability to firmly establish itself as a stable and independent nation, despite facing numerous challenges and difficulties. Additionally, he commended Eritrea's resilience and determination in the face of adversity.
The visit of Eritrean President Isaias Afwerki to China was a strong indication of the positive diplomatic relations between the two countries and a clear sign that Eritrea is playing a central role in the emergence of a new multipolar world in Africa.
President Isaias expressed gratitude for China's friendship and support and emphasized the long history of shared values and vision for a multipolar world order between China and Eritrea. This relationship is an important and "Historic mission for humanity."PIA
China and Eritrea have a long-standing relationship that started in 1967. That was when President Isaias Afwerki traveled to China to get trained for the 30-year liberation war that resulted in Eritrea's defacto independence in 1991.
Xi said that China develops and values its ties with Eritrea from a strategic and long-term perspective. He also said that May 24 is a special day for both countries, as it marks the 30th anniversary of their diplomatic relations and Eritrea's Independence Day.
Chinese President Xi Jinping said that strong China-Eritrea relations were key to bolstering peace in the Horn of Africa region and pursuing mutually beneficial development. Eritrea has strategic importance for China given its location on the Red Sea, one of the world's key shipping corridors with access to the Suez Canal and Europe to the north and the Indian Ocean to the southeast.
During his visit to China, Eritrean President Isaias Afwerki gave an exclusive 'High-end Interview' with CCTV's  Zou Yunin. He spoke about China's role in Africa's development and his admiration for China's achievements. He also hoped for increased unity and cooperation between China and Africa.
President Isaias praised China's economic transformation and success since the 1960s. He said that China had undergone significant changes in its fiscal, financial, enterprise, governance, and strategic approach, which enabled it to become one of the fastest-growing economies in the world.
He said that China's success had inspired developing countries and that African leaders should learn from China's experience and take responsibility for their own development. He suggested that African leaders establish institutions, conduct proper studies, and implement policies to ensure that loans from China or other countries are used effectively. He also dismissed the Western propaganda that China's lending to African countries is a debt trap. He said that African leaders should not blame China for providing loans but rather focus on using them wisely.
President Isaias also expressed his hope for increased cooperation between China and Africa, especially through the Belt and Road Initiative (BRI), which is a global infrastructure development strategy adopted by the Chinese government to invest in nearly 148 countries and international organizations.
He said that the BRI is a beneficial opportunity for Africa to improve its infrastructure and connectivity, which are essential for regional integration and development. He said that Eritrea supports the BRI and welcomes more Chinese investment and participation in its development projects and tourism.
President Isaias also shared his main lesson from his studies in China: "Commitment to serving the people." He said that he was amazed by the commitment of Chinese leaders, such as President Xi Jinping, to enhancing the well-being of their people. He said this devotion is a key factor in China's success and something other leaders can learn from. He said he takes children to the Chinese embassy and cultural center because he believes that young people are important for the future and that China's role is vital in shaping that future.
President Isaias Afwerki of Eritrea firmly believes in the emergence of a multipolar global order in which different countries and regions can cooperate and coexist peacefully. He sees China as a key partner in this new order and appreciates its support for Eritrea's development and sovereignty.
He also rejects the attempts of hegemonic powers to undermine nations through sanctions and other means. He said that Eritrea had faced sanctions that were meant to weaken it, but instead, they have strengthened its resolve, sharpened its skills, and taught it valuable lessons. He said that sanctions are the weapon of choice for hegemonic powers who want to impose their will on others, but Eritrea will not succumb to such pressure.
In conclusion, President Isaias Afwerki has a positive outlook on China-Africa relations and appreciates China's achievements and friendship. He believes that China's role in Africa's development is constructive and beneficial and that African leaders should learn from China's experience and take responsibility for their own development. He also hopes for increased unity and cooperation between China and Africa, especially through the BRI. He may believe that Eritrea-China relations are a model for Africa's development.