Eritrea
President Isaias Interview with RT: Russia Could Play a Balancing Role
President Isaias Afwerki is a strong leader who has guided Eritrea through challenges & fought against Western hegemony. In an interview with RT, he spoke out against unipolarization and emphasized his disapproval of intimidation & sabotage. He believes in expanding relations with Russia.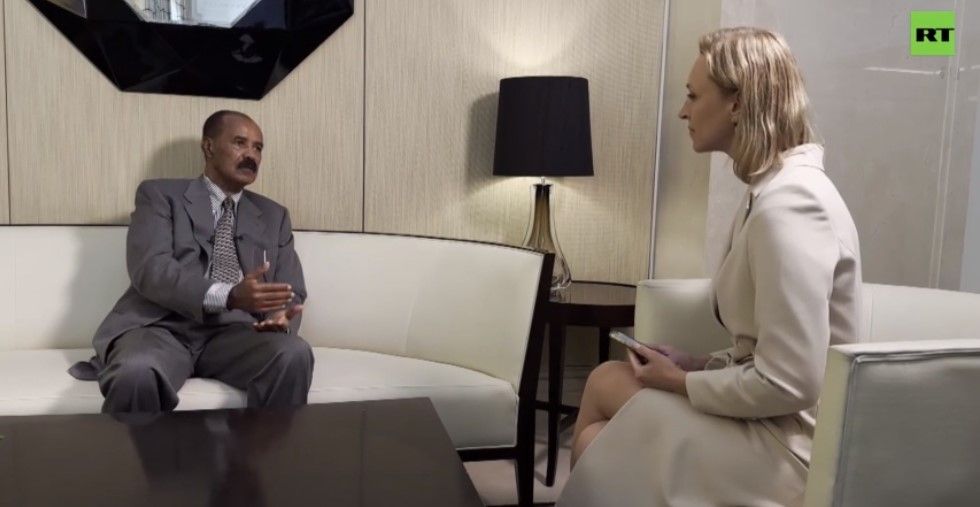 Giving Credit to the Resilient People of Eritrea
It's important to acknowledge Eritrea's resilient, brave, and self-reliant people who have overcome various challenges, including Western hegemonic plans against their country. They are now poised to become a powerful force for a new world order.
Eritrea's Stance on Global Affairs
Eritrea has repeatedly voted against resolutions targeting Russia in the UN General Assembly and the UN Human Rights Council. This includes opposing a vote to condemn Russia's military actions in Ukraine. Eritrean President Isaias Afwerki explained that his country does not support the idea of "hegemony" and repression, which is why they did not endorse the UN resolution blaming Russia for its stance on Ukraine.
During a recent interview with RT, President Afwerki strongly spoke out against the "law of the jungle." He emphasized his disapproval of this prevailing mindset.
"no one is happy with this state of affairs. These are states of uni-polarization. Using every weapon, tool to intimidate, sabotage, and even contain everybody is not acceptable by anyone."
He believes Russia has the right to self-defense against a war Washington and NATO declared 30 years ago. Eritrea also rejects any attempt to impose domination or condemn Russia.
The Impact of Sanctions on Eritrea
Eritrea has encountered difficulties due to sanctions imposed by the US. These sanctions lasted for nine years and were based on false claims that Asmara supported terrorist groups. Despite the negative impact on the economy, infrastructure, and environment, Eritrea has persisted with increased strength and determination.
President Afwerki has stated that the sanctions have taught valuable lessons and have motivated his government to form partnerships with countries worldwide. The goal is to move away from the cycle of sanctions and build a better future. He has expressed the desire to expand bilateral relations with Russia beyond just cooperation in transport. The approach is to be integrated and encompass various aspects.
Expanding Bilateral Relations with Russia
The upcoming Russia-Africa summit in St. Petersburg provides Eritrea and other African nations a chance to work towards ending Western dominance. President Afwerki believes this gathering will help develop mechanisms to achieve this goal. He emphasized the need for collaborative efforts in creating a new environment that differs from the current situation characterized by unipolar domination, containment, sabotage, and sanctions. The focus is to break free from this circle of limitations.
Conclusion
Eritrea's people have shown remarkable resilience in the face of numerous challenges, including Western efforts to control their nation. They have overcome these obstacles and are now poised to become a major force in shaping a new global order. The international community must recognize and support their efforts as they strive to build a brighter future for Eritrea, the Horn of Africa, and the entire continent.