Community
There is no Victory for The Masses Without Women in The Center.
There is no Victory for The Masses Without Women in The Center International Women's Day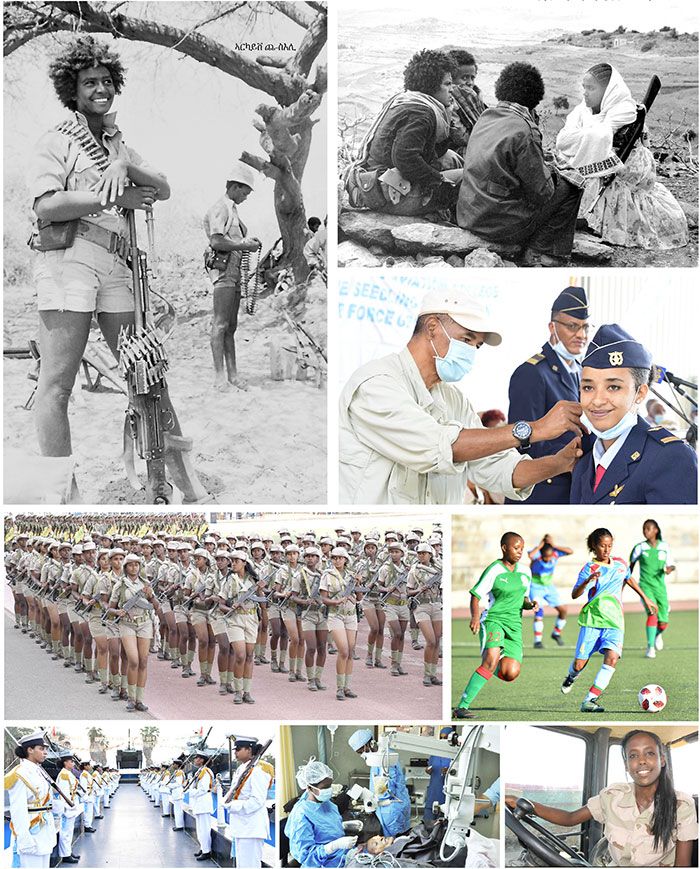 There is no Victory for The Masses Without  Women in The Center
Amanuel Biedemariam

How should we celebrate, honor, and embrace women?

On International Women's Day, we honor the bravery and tenacity of everyday women who have made exceptional contributions to the history of their nations and communities while also calling for change.

International Women's Day is a day to raise awareness of the issues still facing women and girls while celebrating women's social, economic, cultural, and political accomplishments. Also, the day acts as a rallying cry for increasing gender parity.

While a worldwide holiday, International Women's Day has a unique significance for the people of Eritrea. Women's Day is a recognized national holiday in Eritrea, and its citizens celebrate it as their own.

Women from Eritrea are unique. The untold history of Eritrean women is one of a kind. Their place in Eritrea's history is not fixed by accident or because the rest of the world thinks, as we should, that they merit it.

Eritrean women paid with their lives to earn their place in society. They gained their position by paying prices much higher than their counterparts.  

Throughout Eritrean history, women have played a significant role in the country's journey toward social, communal, and national accomplishments. In Eritrean society, women play an essential role as a source of stability, bravery, and strength. Eritrea has always been viewed as having a strong female population. Without the contribution of women, Eritrea would not have achieved freedom during the struggle for independence.

We all know how tough it is to be a woman on a regular day. The hardship that women endure to birth and nurture humanity is not something that men can understand. Women are far stronger than men by a lot.

During the struggle for independence, they were fearless and tenacious in the face of peril, frequently risking their lives to fight for freedom. They took part in military actions, and worked as informants and spies. Women who operated as spies in the cities performed some of the most courageous acts of bravery. They were crucial to the conflict because they could get far inside the Ethiopian military's inner workings and as a result, endured detention and torture in some of Ethiopia's most infamous torture facilities.

During the struggle for independence, they were often on the front lines, participated in military operations, and paid with their lives to fight for freedom. They served as nurses and provided medical care to wounded soldiers.

In the early and mid-seventies, Eritrean women organized protests and demonstrations.
Throughout history, they provided moral support, food, shelter, and clothing.

Eritrean women are mothers, sisters, and wives managing to juggle many responsibilities. They were the first to leave the country as immigrants to Europe, and the Middle East. While working to feed their families, they supported their relatives, and most importantly, they became the mothers of the struggle, the backbone by providing financial, material, and emotional support.

Eritrean women have long been a source of strength and courage in fighting for independence and in Eritrea's daily lives. Eritreans often describe Eritrean women as strong, resilient, and courageous. Eritrean women are celebrated for their hard work and dedication to their families and communities.

On International Women's Day, Eritrean women are honored for their significant contributions to society and their commitment to making the world better. Eritreans recognize the importance of gender equality and the need of empowered women in all aspects of life. In short, their bravery and resilience in the face of danger helped to bring about the independence of Eritrea in 1991.

Listen to Women: One of the most crucial things males can do is pay attention to women's thoughts, ideas, and experiences. This entails actively seeking women's opinions, listening to them, and amplifying their messages.

Educate Yourself: Become informed. Males should make an effort to educate themselves about the background of women's rights as well as the current problems that women confront. To do this, you should read books and articles by women, go to conferences and events run by women, and look for other viewpoints on subjects that concern women.

Support: Men can support women-led initiatives by volunteering or making monetary donations, or just by letting others know about the groups and initiatives that are trying to better the lives of women.

Advocacy: Males can utilize their privilege and influence to fight for women's rights in their workplaces, neighborhoods, and elsewhere. This could entail speaking out against sexism and misogyny, promoting laws that assist women, and striving to make settings that are more welcoming and egalitarian.

Be an ally: Males may support women by actively working to destroy oppressive structures, opposing damaging attitudes and practices, and defending women when they are the target of harassment or discrimination.

In the end, honoring women on International Women's Day (and every single day) means appreciating their achievements, paying attention to their opinions, and cooperating to build a more equitable and just world for there is no Victory to The Masses Without Women in The Center of It!