Eritrea
US State Department: Policy of Unremitting Hostility towards Eritrea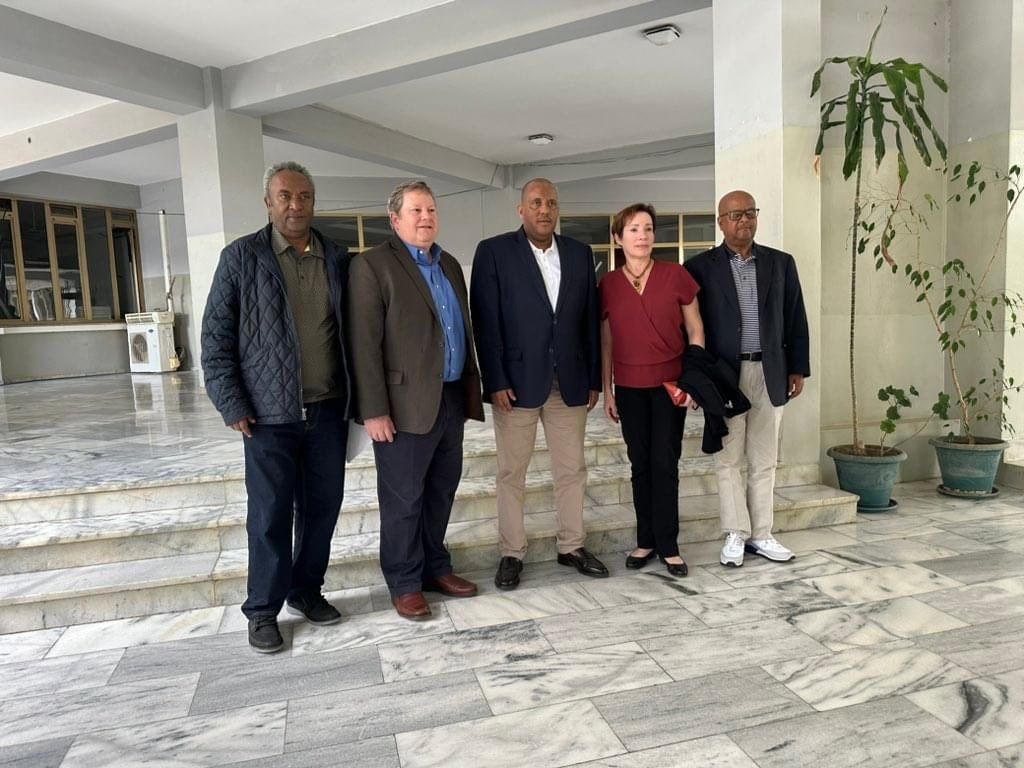 Apr 29, 2023
In the fourth week of last month, the US State Department posted in its website a shoddy policy paper entitled: "Integrated Country Strategy on Eritrea''.
The policy paper, reportedly prepared by a strident former Chief of Mission at the US Embassy in Eritrea, virtually advocates for illicit acts of political subversion against the country. More precisely, the policy paper cannot be shrugged off as the idiosyncrasies of an unhinged diplomat as it was duly endorsed by the State Department "for Public Release" on May 5, 2022.
For reasons that remain opaque, and notwithstanding implausible explanations belatedly pronounced by junior State Department officials, the policy paper was not publicized until early this month.  In the event, the timing is baffling by and in itself and provokes a host of questions.
The litany of baseless accusations peddled in the policy document defy reason and established diplomatic norms.  In many respects, the policy document accentuates the visceral and unwarranted hostility that US policy-making circles have pursued for decades against Eritrea, purely and simply in order to advance their perceived global interests at the expense of a sovereign nation.
The policy document announces for the first time, that the US has indeed been pursuing, "since September 2021, US National Security Council (NSC) – endorsed policy of disciplined confrontation with the Eritrean Government".
In accordance with this subversive directive, core tasks of the US Embassy in Eritrea primarily revolve around: "rigorously challenging government mis/disinformation… seeks to isolate Eritrea's toxic (sic?) regional influence and limits its engagement with political-level regime officials".
The legality, rationale, and national security ramifications of what is termed as a policy of "disciplined confrontation" aside, it must be underlined that the now formally declared hostile US position was never communicated to Eritrea prior to the publication and official dissemination of this policy paper.
Be that as it may, the temerity of the US Administration to arrogate to itself the mandate and mission of mapping out Eritrea's future political trajectory is outrageous and deplorable.   Indeed, the policy document unabashedly announces: "our primary strategic policy goal is to cultivate Eritrea's next generation and prepare for a post-Isaias regime".
The arrogance and imperial hubris amplified in this illicit position, which is in flagrant contravention of international law; the UN Charter on the equality and sovereignty of all nations irrespective of their size and power; and, the norms and provisions of what they flaunt as a "rules-based international order", is too palpable to merit elaboration.
But speaking with forked tongues and whimsical cherry picking of international law is not alien to US Administrations who have fabricated preposterous justifications to flout international law and subjugate independent peoples and nations when and if they are perceived as "impediments" to US dangerous quest of global domination and hegemony.
The policy document enumerates the inventory of illegal unilateral sanctions that various US Administrations have imposed on Eritrea in the past two decades.
The vicious cycle of adversity was trigged by, and set in motion when, the Clinton/Bush Administrations chose to change the Eritrea-Ethiopia Boundary Commission (EEBC) Arbitral Award to mollify their client State – the TPLF regime – in violation of international law and the explicit provisions of the Algiers Peace Agreement brokered by the US itself in conjunction with the EU and the African Union.
Eritrea rightly refused to "play ball" and sheepishly compromise its sovereign rights.  This aroused US ire and subsequently led to the spiral of hostile acts that ensued in subsequent years.
As it happened, the US leveraged its diplomatic clout at the UNSC to impose wide-ranging sanctions – including an arms embargo precisely at a time when large swathes of its sovereign territories were occupied by Ethiopia in violation of the Algiers Agreement and international law.  The US and its allies further unleashed a vicious policy of "strategic depopulation" to wean Eritrea's youth from the National Service and arduous tasks of nation-building by systematically granting blanket asylum in their countries to all Eritreans that fall in these categories.
Furthermore, US Administrations invoked spurious pretexts to harass Eritrea by leveraging various instruments in their toolbox of illicit, unilateral, sanctions.
In this web of lies and vilification, Eritrea was and remains "ranked as Tier 3 for Trafficking in Persons due to its mandatory, indefinite National Service".  Eritrea has also been "designated a Country of Particular Concern for international religious freedom".  (Eritrea is a highly pious country of religious pluralism with centuries-old Abrahamic faiths that live in exemplary co-existence and harmony).
And in the wake of TPLF's war of choice and Insurrection in November 2020, the Biden Administration also invoked what it calls "the Global Magnitsky Act" to impose unlawful and unilateral sanctions on the Chief of Staff of Eritrea's Defense Forces.
Furthermore, and as odd as it may sound, the Biden Administration dubbed the war in northern Ethiopia as constituting "an unusual and extraordinary threat to the national security and foreign policy of the United States", prompting President Biden to "declare a national emergency'' and thereby enact Executive Order 14046.
As it happened, this instrument was principally used to "sanction several Eritrean entities and individuals"; (Annex 2).
This list has not been published as yet. In this act, the US has concocted a spurious rationale precisely in order to whitewash and absolve the TPLF's crimes of war and Insurrection and target Eritrea for its acts of legitimate self-defense and regional stability.
The US policy document also contains various operative paragraphs on, and references to, Eritrea's legitimate ties with China (and to some extent, Russia) as well as lamentations on Eritrea's voting patterns "on most contested issues" in the UN General Assembly that do not kowtow US positions.  In this vein, it alludes to Eritrea's accession to the "Belt and Road Initiative…  its hosting of Chinese Foreign Minister Yangi Yi in January 2022, …China's maintenance of a relatively large Embassy… and even some scholarships that China has offered to Eritrean students'' in the past years.
These presumptuous postulates are too trite to merit serious response.  Eritrea is not a client or vassal State of the United States.  It has every right, and indeed duty, to cultivate ties with all nations in our global community on the basis of mutual respect, and common benefits and interests.  Indeed, Eritrea's sound international and regional policies, and the ties of friendship and cooperation that it cherishes to nurture with all countries, is anchored on these normative parameters.
The US policy document does not only fail to acknowledge these normative variables of foreign policy but goes further to speculate that "an Eritrea strategically aligned with China… could deny the United States access to a large part of the most valuable shipping route in the world and increase China's foothold in the Horn of Africa".
This speculative assertion is not only utterly false but reeks of US "strategic considerations" and arguments in the 1950s for subordinating and compromising Eritrea's legitimate national rights on the altar of US global hegemony. Eritrea's responsible conduct in safeguarding maritime traffic to all nations as a littoral State in the Red Sea is otherwise a matter of impeccable track-record.
The US policy document contains additional operative paragraphs that purport to depict Eritrea as a "force of destabilization in the Horn of Africa".  It goes on to say: "the Embassy is advancing a broader policy of regime isolation and financial sanctions to limit its ability to perpetuate the conflict in northern Ethiopia".
Again, these presumptions are contrary to the realities on the ground.  In as far as the war in northern Ethiopia is concerned, the US has been privy to, and complicit in, the TPLF's war of Insurrection and subsequent two offensives that the TPLF clique unleashed even when the Ethiopian Federal Government had declared unilateral and humanitarian cease-fires.
US footprints are also discernible in the destabilizing conflict that has wreaked havoc in Somalia for almost three decades.  US lop-sided policies contributed to perpetuating the conflict between Eritrea and Ethiopia for two decades even when the putative border dispute was legally settled through a binding Arbitral Award.
On the wider North African-Middle Eastern operational theatre, US wars of destabilization in Libya, Iraq, Syria, Afghanistan, etc., are well-known, and these days, openly admitted by various circles within the US Establishment.
In the event, to point an accusing finger against Eritrea is really disingenuous and morally vacuous.
The US policy document waxes eloquent on human rights to vilify Eritrea in the most wicked terms.  But this is a long-discredited ploy that the US often resorts to in order to claim the moral high ground and cloak its nefarious and illicit policies and acts of destabilizing sovereign nations in humanitarian garb.
As illustrated in the attached document (Annex 1), US policy of unwarranted antagonism and hostility is not new.  The current policy document perhaps signals that the US continues to dwell on, and even ramp up, its decades-old, unjustified and counter-productive stance against Eritrea.
Eritrea has, for its part, explored all avenues to restore normalcy in its bilateral ties with the United States.  Among other things, President Isaias Afwerki had sent a letter with the annex referred above to President Trump during the first year of his Presidential term.  But even then, the initial responses that appeared positive did not come to fruition and crystallization.  And for reasons better known to itself, the Biden Administration has reverted to, and ratcheted up, the adversarial ties of the past decades.
In the event, the malaise lies in US misguided calculus and policy choices of flouting international law and the norms and practices of diplomatic ties between sovereign nations to advance its narrow geopolitical interests.
(Annex 2)
Recent US Sanctions and/or designations on Eritrea
1. Executive Order 14046 – Imposing Sanctions on Certain Persons with Respect to the Humanitarian and Human Rights Crisis in Ethiopia (Signed by JOSEPH R. BIDEN JR., President of the United States of America).
→ September 17, 2021
→ Establishes a new sanctions regime that will allow us to target those responsible for, or complicit in, prolonging the conflict in Ethiopia, obstructing humanitarian access, or preventing a ceasefire. It provides the Department of the Treasury with the necessary authority to hold accountable those in the Government of Ethiopia, Government of Eritrea, the Tigray People's Liberation Front, and Amhara regional government, among others, that continue to pursue conflict over negotiations to the detriment of the Ethiopian people.
→ These sanctions are not directed at the people of Ethiopia or Eritrea, but rather the individuals and entities perpetrating the violence and driving a humanitarian disaster.
2. Treasury Sanctions Eritrean Military Leader in Connection with Serious Human Rights Abuse in Tigray
→ August 23, 2021
→ The U.S. Department of the Treasury's Office of Foreign Assets Control (OFAC) sanctioned General Filipos Woldeyohannes (Filipos), the Chief of Staff of the Eritrean Defense Forces (EDF), for being a leader or official of an entity that is engaged in serious human rights abuse committed during the ongoing conflict in Tigray. Filipos is designated pursuant to Executive Order (E.O.) 13818, which builds upon and implements the Global Magnitsky Human Rights Accountability Act and targets perpetrators of serious human rights abuse and corruption around the world.
3. Treasury Sanctions Four Entities and Two Individuals in Connection with the Crisis in Ethiopia
→ November 12, 2021
→ Today, the U.S. Department of the Treasury's Office of Foreign Assets Control (OFAC) designated four entities and two individuals pursuant to Executive Order (E.O.) 14046 in response to the growing humanitarian and human rights crisis and expanding military conflict in Ethiopia.
→ The individuals and entities designated today are the Eritrean Defense Force, the People's Front for Democracy and Justice, Abraha Kassa Nemariam, Hidri Trust, Hagos Ghebrehiwet W Kidan, and Red Sea Trading Corporation.
4. Ethiopia-Related Designations; Kingpin Act Designations Removals; Issuance of Ethiopia-Related General License and Frequently Asked Questions
→ 11/12/2021
→ The Department of the Treasury's Office of Foreign Assets Control (OFAC) has issued Ethiopia General License 4, "Authorizing the Wind Down of Transactions Involving Hidri Trust or Red Sea Trading Corporation." OFAC has also updated Frequently Asked Question (FAQ) 927, and published two new FAQs (935 and 936).
→ The following individuals have been added to OFAC's SDN List:
NEMARIAM, Abraha Kassa (a.k.a. KASSA, Abraha; a.k.a. KASSA, Wedi), Eritrea; DOB 15 Jul 1953; POB Eritrea; nationality Eritrea; Gender Male; Passport D000294 (Eritrea) (individual) [ETHIOPIA-EO14046].
W KIDAN, Hagos Ghebrehiwet (a.k.a. WELDEKIDANE, Hagos Ghebrehiwet; a.k.a. WOLDEKIDAN, Hagos Ghebrehiwet), Asmara, Eritrea; DOB 25 Apr 1953; POB Senafe, Eritrea; nationality Eritrea; Gender Male; National ID No. 0882109 (Eritrea) (individual) [ETHIOPIA-EO14046].
The following entities have been added to OFAC's SDN List:
ERITREAN DEFENSE FORCES (a.k.a. ERITREAN DEFENSE FORCE), Eritrea; Organization Established Date 1993; Target Type Government Entity [ETHIOPIA-EO14046].
HIDRI TRUST, Felket Street, Asmara, Eritrea; Organization Established Date 1994 [ETHIOPIA-EO14046].
PEOPLE'S FRONT FOR DEMOCRACY AND JUSTICE, Eritrea; Organization Established Date 1993; Organization Type: Activities of political organizations [ETHIOPIA-EO14046].
RED SEA TRADING CORPORATION, Felket Street, Asmara, Eritrea; Dubai, United Arab Emirates; Organization Established Date 1984 [ETHIOPIA-EO14046].
5. Country of Particular Concern (CPC) for religious freedom violations
→ December 2, 2020,
→ The U.S. Secretary of State redesignated Eritrea as a Country of Particular Concern (CPC) for engaging in or tolerating "particularly severe violations of religious freedom" as defined by the International Religious Freedom Act of 1998. This designation imposes certain restrictions on U.S. assistance and diplomatic engagement with Eritrea.
6. Tier 3 country for human trafficking
→ June 25, 2020
→ The U.S. Department of State placed Eritrea in Tier 3, the lowest ranking, in its annual Trafficking in Persons Report for not meeting the minimum standards for the elimination of trafficking and not making significant efforts to do so. This designation subjects Eritrea to certain sanctions and limitations on U.S. foreign assistance and support in international financial institutions.
7. Country of Particular Concern (CPC)
→ November 30, 2022
→ Eritrea is included in the list of the most recent Countries of Particular Concern designated by the U.S. Secretary of State.